---
NOTE: This 2004 entry remains for historical and reference purposes only.
---
How come he doesn't endorse his own site?
What happens when the world's best poker player and leading icon teams up with the foremost poker expert alive? A Doyle Brunson and Mike Caro miracle.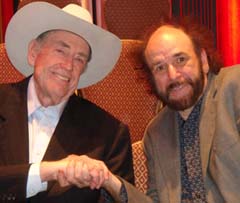 "There is nothing else in poker like Doyle's Room! That's because we have the right team and the right vision to make online poker history," according to Mike Caro. "It's the only online poker room I endorse — and the only place I play. To me, innovation, credibility, a broad selection of lively games, and integrity matter most. And that's exactly what you get at Doyle's Room."
In 2004, Mike Caro visited Brunson's home in Las Vegas, and the outcome would dramatically change their poker directions. They decided to team together to do poker right — both in the online playing arena and in the field of poker education.
Over 80 combined years of experience and influence
Using their more than 80 combined years of experience and influence in poker, they decided against focusing on just one aspect of Internet poker. They would do it all.
Only Doyle


"There is nobody in the world, other than Doyle, that I would even consider taking a supporting role for in promoting a poker site." said Mike Caro. "But with Doyle's magnetism, presence, and vision, it didn't take me long to decide. And his endorsement of my university made it the perfect partnership. I realized that together we had the resources to finally do things in poker that had only been imaged before."
Equally enthusiastic, Brunson asserted, "Getting Mike Caro onboard was among the most important victories for Doyle's Room. Just look around at poker1.com and doylesroom.com and you'll quickly see what I mean. And there's a whole lot more to come."
Years earlier, Mike Caro had endorsed another pioneering real-money poker site in the evolution of the online game. But with that project successfully behind him, he had decided to devote most of his time to the enhancement of Mike Caro University of Poker and its online presence at Poker1.
New standards
That's when Brunson suggested that they join forces — as they had many times before during their 30-year friendship. Brunson was endorsing DoylesRoom.com, which was launching with a vision uniquely his own. He believed that by using his ideas and incorporating some of Caro's, Doyle's Room could set new standards in online poker — whether playing for money or just for fun.
The best playing and learning experience
What could be better than to link this project to MCU and Poker1 — offering players the best playing and learning experience anywhere? And that's what happened. You'll even find selected MCU material at www.doylesroom.net and at www.doylebrunson.com.
Rather than launch his own site or attach his name to an existing one, Mike Caro agreed to take a supporting role at Doyle's Room in a team effort to make online poker history. At the same time, Brunson teamed up with Caro's Poker1 and MCU and incorporated them into his overall dream.
What's next?
You are beginning to see the benefits of this unexpected partnership that has electrified the poker community.
When separately asked what would happen next, oddly both Brunson and Caro uttered exactly the same words: "Stay tuned!"