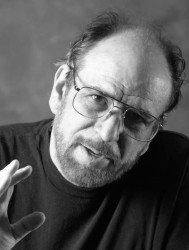 This is a recent release of the Mike Caro bio that's mailed to reporters and other interested people.
Updated July 7, 2020
Briefly
Mike Caro (rhymes with "arrow") is regarded as the world's foremost authority of poker strategy, psychology, and statistics. He is also a noted gambling authority, industry consultant and spokesperson, respected odds maker on current events and politics, and author of 10 books.
Born May 16, 1944. he is known professionally as "America's Mad Genius," "Gambling's Mad Genius," "The Mad Genius of Poker," or often just "The Mad Genius." He teaches that in order to overcome any odds against you, your decisions must really matter. Therefore, games like craps, roulette and keno — where there's no logical reason to favor one decision over another — cannot be beaten. Poker, sports handicapping, and blackjack can be.
He is founder of Mike Caro University of Poker, Gaming, and Life Strategy. Caro created, programmed, and designed Poker1.com, freely sharing a large portion of his life's work.
In 2002, he fled the poker spotlight to become a self-declared "hermit in the Ozarks." His plan of achieving near-total isolation to continue his research and artificial intelligence programming has been periodically interrupted when lured from his declared "life in the forest, communing with the furry creatures" to do seminars and make selected public appearances.
He has announced an eventual return to poker and public life after his projects are complete. No date has been specified.
Books
Caro's Most Profitable Hold 'em Advice — The Complete Missing Arsenal. 2007. Cardoza Publishing, distributed by Simon and Shuster.
Mike Caro's Book of Tells — The Body Language of Poker. Accompanied by 179 photographs, this hard-bound book shows when players are bluffing and when they aren't. Explains why. One of the most widely quoted books in the history of poker. Third version titled "Caro's Book of Poker Tells" is currently published by Cardoza Publishing and distributed by Simon and Shuster.
Poker for Women — A Course in Destroying Male Opponents at Poker and Beyond. Combines proven poker strategy with special techniques that take advantage of most men's preconceptions about women. Coming back into print shortly.
Caro's Fundamental Secrets of Poker. A collection of winning advice from his major poker seminars. (The first of an announced series of books and videos published under Caro's imprint, Modern Gaming Info. Trump Taj Mahal in Atlantic City published its own version of Caro's Fundamental Secrets of Poker. Cardoza Publishing distributes a version nationally under the expanded title: Caro's Fundamental Secrets of Winning Poker. Fourth version currently published by Cardoza Publishing and distributed by Simon and Shuster. This book was updated in 2008 and is now titled Caro's Secrets of Winning Poker.
Caro on Gambling. A selection of his most notable columns first published in Gambling Times magazine
New Poker Games. A description of newly invented or little-known forms of poker. Adds strategic advice. Out of print.
Gambling Times Quiz Book. Gambling facts and concepts. Out of print.
Bobby Baldwin's Winning Poker Secrets. A biography of former poker world champion Bobby Baldwin, now president of the Bellagio in Las Vegas. Second version currently published by Cardoza Publishing and distributed by Simon and Shuster.
Mike Caro's Guide to Doyle Brunson's Super/System — A Course In Power Poker. Additional learning material to accompany Brunson's legendary bible on poker — for which Mike Caro was named one of Brunson's five expert collaborators and wrote both the draw poker and statistics sections. (He also contributed 43 tips from Mike Caro University of Poker to the sequel).
Poker at the Millennium, co-authored by Mike Caro and Mike Cappelletti.
Caro's Professional Hold 'em – Play by Play, Caro's Tells, Psychology and Manipulation, and Lessons from Mike Caro University of Poker (by MCU director of operations, Diane McHaffie, with special content from Mike Caro) are scheduled for publication soon.
TV, radio, video, web
Video: Play to Win Poker, featuring Caro and TV's "Grizzly Adams," Dan Haggerty.
Video: Caro's Power Poker Seminar. Filmed at the Bicycle Club Casino and the Hollywood Park Casino in 1994, this video captures the essence of Caro's seminars, which are far and away the best-attended in the industry. DVD and VHS.
Video: Caro's Pro Poker Tells on Video. The definitive production on the topic of interpreting opponents' mannerisms. Based on Mike Caro's Book of Tells — The Body Language of Poker. (This tells video was the first object to appear on screen in the 1998 movie about poker, Rounders.) DVD and VHS.
Video: Caro's Major Poker Seminar. Filmed at Hollywood Park Casino in 1994 with more than 300 in attendance, including top professional players and world champions. DVD and VHS.
Video: More, including three DVDs of the World Poker Players Conference which Caro emcees and contributes short seminars, three DVDs sold through a short TV infomercial, and other videos produced by various entities.
Radio: Mike Caro frequently does radio interviews, produced web audio broadcasts through his previous affiliations with Doyle's Room and Planet Poker (online poker sites), and did a web radio show with co-host Stan Sludikoff, Poker Player newspaper publisher. From August, 1990 to January, 1992, Caro provided weekly odds and commentary on current events over radio "superstation" KVEG, airing from Las Vegas to 12 states and Canada. In doing so, Caro has put together The Mad Genius Brain Trust–a highly regarded group of more than 40 experts in various fields. He frequently consulted with them before announcing the odds on such questions as "Will a human land safely on Mars before 2020?" and "Who will be the next President?"
TV: ESPN did a special profile of Mike Caro during its World Series of Poker coverage (2009-2010), including clips from his seminars. He was featured on TV in 2005 and 2006 as a top professional player on the World Poker Tour, Poker Superstars II, and twice on the NBC National Heads-up Championship. All were prestige invitation-only events, featuring small selected fields of the top players in the world.
Mike Caro has appeared in many TV segments and features including Hard Copy, Discover Channel, ESPN, Travel Channel (including special program for World Poker Tour), BBC, Science Channel, ABC, NBC, Fox Sports Network, a Maverick TV series marathon (introductory clips), and Learning Channel and the TV version of Ripley's Believe It or Not? with his computer, Orac in 1984. The latter was a $250,000 challenge pitting the computer against Bob Stupak, owner of Vegas World. (Stupak won, but the computer is ready for its comeback against three world champions–most likely at a major casino within two years.)
In conjunction with his prior affiliation with world champion Doyle Brunson and DoylesRoom.com, his own current educational site, Poker1.com, and other major Internet sites, he broadcasts audio lectures to thousands of regular listeners. He has made more than 100 other TV and radio appearances, both nationally and regionally.
Featured columns
Mike Caro has been the lead columnist for five gambling publications and has written over 800 articles and columns.
Formerly: Gambling Times magazine (Caro On Gambling), Poker Player newspaper (A Word From the Mad Genius), the Player tabloid (Caro on Poker), Casino Player (Caro on Winning) and a more recent poker-specific series, Card Player magazine (lead column was simply titled Mike Caro), Poker Digest (Mike Caro: "The Mad Genius of Poker"), Bluff magazine (lead strategy column).
Currently: Lead column for 2003-revived Poker Player newspaper begins every issue on the cover (front page).
New Mike Caro material, based on his ongoing research, appears regularly at his Poker1.com website.
(Note: The similarly named Poker Player, the Card Player, and the Player — and its successor Casino Player — are not affiliated.)
Seminars
Hosted scientific-trending poker seminars at major legal card casinos and educational venues in the United States, Britain, Costa Rica, Ireland, and Canada, including at the Las Vegas Hilton, the Stardust, the Palace Station, the Rio, Harvey's Lake Tahoe, the Bicycle Club Casino, Hollywood Park Casino, Trump Taj Mahal, Holland Casino Amsterdam, Trinity College, Dublin, and Regina Casino, Canada.
In 2010 and 2011, he presented seminars for the World Poker Tour (WPT) Championship Boot Camp in Las Vegas.
He conducted a college tour in 2005 in conjunction with Doyle Brunson and doylesroom.com, bringing his poker wisdom and research on poker to seven major universities. He opened the 2005 World Series of Poker main event at the Rio in Las Vegas with an affiliated seminar.
He has done two series of seminars on cruise ships, for Card Player Cruises ("MCU at Sea") about 1998, and for Poker Player Cruises in 2010.
In 2009, he presented six seminars for the Rio during the World Series of Poker, joined by Doyle Brunson for follow-up questions and answers. During the 2006 World Series of Poker, he conducted a series of six seminars, sponsored by Doyle's Room online poker, across the hall from the tournaments. In 2004, he did the opening seminar at the WSOP.
He has emceed and delivered featured presentations to the annual World Poker Players Conference in 2001, 2003, 2004, and 2005 – the largest such gathering in the world — and the California Poker Players Conference, 2007. He has spoken at the annual World Poker Industry Conference — aimed at casino owners, managers, and entrepreneurs — and moderated his own expert panels twice.
He has delivered keynote speeches to diverse groups — from artificial intelligence to general gambling to large-scale gaming shows.
University of Poker
Mike Caro University of Poker, Gaming, and Life Strategy at Hollywood Park was announced on April 17, 1998. It began full operations in 1999. While originally headquartered at Hollywood Park Casino, near Los Angeles, it now operates from Table Rock Lake in Missouri, where Mike Caro claims to have become a hermit. It's online campus is at www.Poker1.com.
Although MCU hasn't yet established standard year-to-year courses or graduate programs, it has been influential in offering free poker education, sponsoring conferences and seminars, providing an Internet presence, and publishing widely respected material, including books and video. Mike Caro himself has called the university "a hoax," due to its delay in offering physical on-campus learning programs. But that hasn't stopped MCU from winning widespread player and media acclaim for what it has already contributed to poker.
Research
In 1978, Mike Caro contributed 50 statistical tables to the classic professional manual on poker–twice world champion Doyle Brunson's Super/System (A Course In Power Poker). These often-quoted tables remain the most comprehensive and accurate statistics ever published on poker.
Caro's poker and gambling statistics are often quoted today. His research and theories are noted in at least 50 gaming books other than his own. He has frequently provided odds on games and promotions to major casinos, using computer programming tools which he developed.
In 1990, he began to market Poker Probe, a professional research program that analyzes 15 different forms of poker on IBM personal computers. Among his other computer research projects are a baccarat program, which he made available free to the public, and a video poker analyzer functionally identical with machines found in public casinos.
He has developed elaborate computer software to analyze all forms of poker. The most important is a set of programming tools called "Mike Caro's Poker Engine." In 1987, he outlined the contents of the Engine before the Seventh Conference on Gambling and Risk Taking, sponsored by the University of Nevada Reno. He has been guest speaker at the Los Angeles chapter of the world's largest association for artificial intelligence experts and enthusiasts.
His technical strategies for seven stud, draw, lowball and hold 'em are used by advanced poker players and mathematicians.
In addition to his continuing research, he is programming what he believes will be his ultimate achievement — MCU Campus (Mike Caro University Campus), a collection of over 50 programs bundled into one diagrammed campus with an optional shuttle taking students to the buildings. There is an Auditorium for presentations, live events, and ceremonies, a Gym to practice various workouts, mostly poker, a Lab for research, a Classroom where courses are offered, a Library, a student Lounge with activities that include hold 'em with user-defined strategies, M49 Hall, dedicated to an advanced Mike Caro strategy game called "Matrix 49," and the Map room, showing a diagram of the campus, with all departments, and a shuttle that transports students along paths between buildings. Target release date is 2023.
Articles about
His gambling research, philosophy and programming achievements have been credited or featured in more than 50 periodicals, including Games magazine, Science 85, Family Computing, InfoWorld, Video, Smithsonian magazine, Playboy, FHM, Gambling Times, and Newsweek. Although he has temporarily disappeared from the public spotlight, his achievments have been cited in The Atlantic and Popular Science magazines as recently as 2020, the year of this update.
He has made the cover of two leading poker magazines (Card Player and Poker Digest) five times, and is credited with additional cover features in publications ranging from Rave Sunday magazine (newspaper distribution) to the Los Angeles Business Journal.
Editorial
Formerly: Editor-in-chief, Poker Player; Poker Editor and Senior Editor, Gambling Times magazine; Managing Editor, B&G Publishing. Served as Industry Advisor for Card Player magazine and advisor to the Casino Publishing group, publishers of Casino Player, Poker Digest, Strictly Slots and Casino Journal. Now serves as Senior Editor for Poker Player magazine.
Gaming industry
As a casino consultant, Mike Caro provides advice on games, odds, procedures, marketing, and long-term strategy.
In 1992, he brought the first world-class poker tournament to the east coast. Held at Foxwoods Casino in Connecticut, it was called the World Poker Finals. The tournament was the first to use a four-color deck — which Mike Caro campaigned for — and to bring corporate sponsorship (on a limited basis) to poker tournaments.
When the Bicycle Club Casino opened in 1984, he held the title of Chief Strategist with an independent office on premises, which he used for research and to allow players to report suspected cheating in confidence.
In 1986, he was announced as General Manager of the Huntington Park Casino. Public awareness of his presence led to an immediate and dramatic increase in business, as documented by city records.
Served as spokesperson for Canadian Mist whiskey, bringing charity poker tournaments to Miami and Minneapolis. (Both Tom Bowling, first general manager of Hollywood Park Casino, and the late Rick Cole, its first vice president of casino operations served as Caro's tournament directors on this project.)
Served as expert witness for card clubs in battle with attorney general of California in jackpot poker case. His computer research served as a key exhibit in showing that jackpots were not purely based on luck and therefore not a lottery.
Was the key witness the night the Huntington Park (California) city council voted to allow hold 'em and pai gow to be spread. This started the entire process upon which the majority of profits in California casinos are now based.
His computer research and personal analysis of games, odds, and procedures has been used reliably by casinos for at least 25 years.
Among the casinos using his "house way" for pai gow poker have been the Bay 101 Casino, the Hollywood Park Casino, and the Bicycle Club Casino.
He has written or helped to write at least six rule books, and several rules based on his words are so widespread (i.e., plagiarized) that they are virtually public domain.
He has lectured extensively on casino management to the California Card Club Association, the University of Nevada, Reno, the American Association of City Administrators, the 1st and 2nd Annual World Poker Industry Conferences, and to major gaming expositions.
He was keynote speaker for Casino Player's gaming convention at the Trump Taj Mahal in Atlantic City in 1995 and for the BARGE Internet gamblers' convention in both 1996 and 1998.
He has four times served as emcee for the World Poker Players Conference, the largest annual gathering for serious players.
He has addressed and moderated forums before the annual World Poker Industry Conference in Las Vegas in 1996, 1997, and 1999.
He has taught poker room management as a guest instructor at the University of Nevada, Reno, and has taught a course on poker through Clark County Community College (Las Vegas).
In 1998, he became the first well-known poker celebrity to endorse online poker, when he joined Planet Poker. Since then he has worked as a public persona for other online sites. Behind the scenes, he has consulted with four online poker entities in an ongoing effort to protect players from cheating and collusion.
Other
In 1994, Mike Caro received a lifetime achievement award at the Bicycle Club Casino. The plaque including the words, "Unquestionably today's foremost authority on poker strategy, psychology and statistics, you are among the most influential and respected advisors in the industry." The literature accompanying the award read: "From rules to policies to promotions, from his campaign for the four-color deck to his efforts to keep all games honest, whenever you see something new and beneficial, there's a good chance it has Mike Caro written all over it." Speaking on his behalf were Tom Bowling, general manager of the Hollywood Park Casino, June Field, founder of Card Player magazine, and Doyle Brunson, twice world champion of poker.
At the 2006 World Series of Poker at the Rio in Las Vegas, he was inducted into the Seniors Hall of Fame for poker players.
Mike Caro's biography appears in the Marquis' Who's Who in America, Who's Who in the World, and Who's Who in the West.
Caro is himself a highly regarded poker professional. Twice world champion Doyle Brunson calls him "the finest draw player alive." Noted gambling authority David Sklansky rated Caro #1 on his list of top living draw poker players. Authority John Scarne, in his book Scarne's Guide to Modern Poker, calls Caro one of the five best draw players in the world today.
He has been vocal in promoting the four-color deck (which makes each suit identifiable by a separate color), and introduced it at his World Poker Finals at Foxwoods in 1992. He was a spokesman for Yaquinto Playing Cards, manufacturers of a four-color deck.
His 1996 roast at Hollywood Park was attended by 530 guests, including industry dignitaries representing over 20 casinos from around the country. Speakers included: leading owners and executives — John Sutton, George Hardie, Tom Bowling; major poker players — Doyle Brunson, Tom McEvoy and Mike Sexton; the leading law enforcement expert on California gaming — Greg Chapin; and both the founder and the president of Card Player magazine — Phil Field and Scott Rogers. Commercials for Mike Caro poker products ran in 2005 on several cable TV channels.
On January 1, 2014, after five years of development, Mike Caro's Poker1.com was officially opened online. The free site offers a comprehensive collection of his life's work on poker and everyday strategy.
In 2013, he announced Caro Online Poker Solutions (COPS), an automated cheating detection system for online poker, using his own methodology. It was created in conjunction with his colleague, Bill Handy.
Ethics
Mike Caro is acknowledged as a leader in promoting honesty in gambling. His Cheater Monitoring Service solicited information on scams from around the world. He held an independent office for the service on premises at the Bicycle Club Casino in Los Angeles, as well as at the nearby Hollywood Park Casino, and invited players to exchange information in absolute confidence. He refuses to teach advanced students unless they pledge to abide by specific ethical standards.
---
---
---