Page 2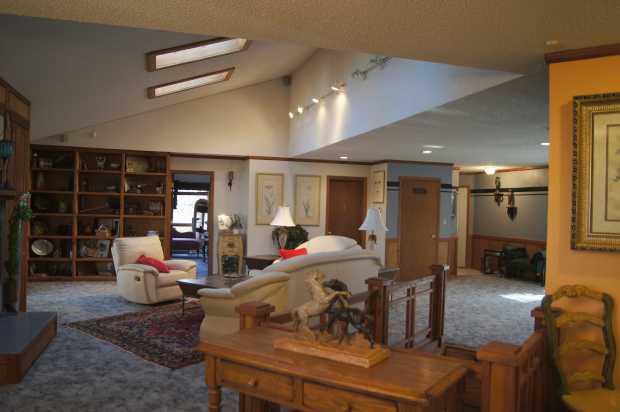 — Living area from another angle —
---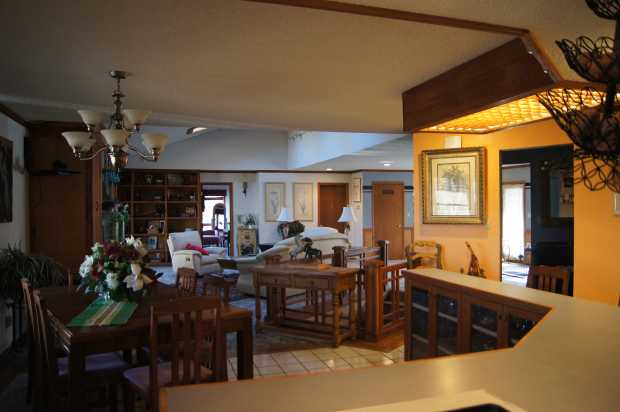 — From farther back, you see the kitchen island and dining area, too —
---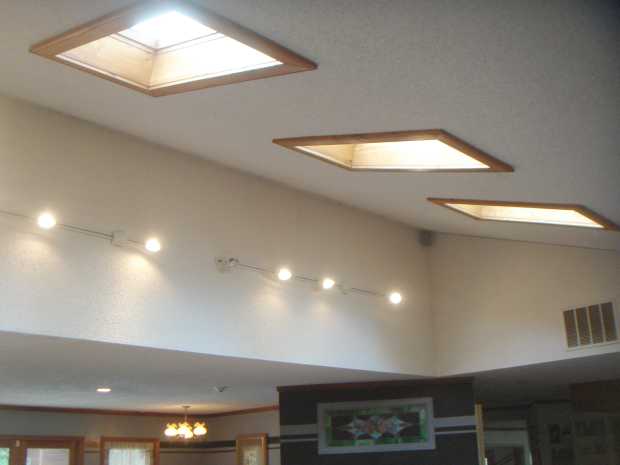 — Skylight woodwork matches original molding and cabinetry. —
---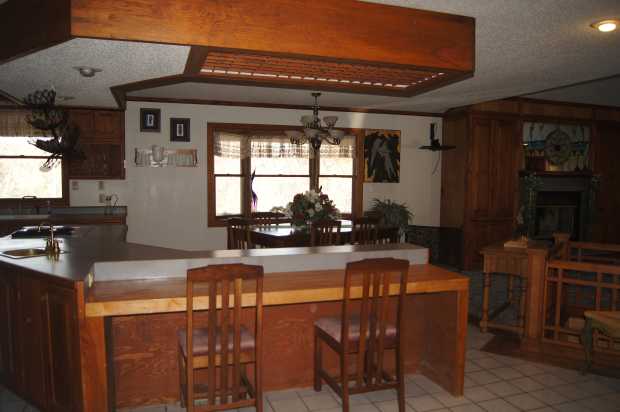 — A sit down lunch and breakfast counter seats up to four —
This served as my first work area during construction of the office suite. The counter chairs match the six you see at the dining table. I purchased the dining set from the woodworking craftsman who built the retreat. It was my first furniture here. It will be my housewarming gift to you, if you want it. The gold-tone bar sink (left) and unmatching white kitchen sink (left background) have both been replaced this year with stainless steel versions.
---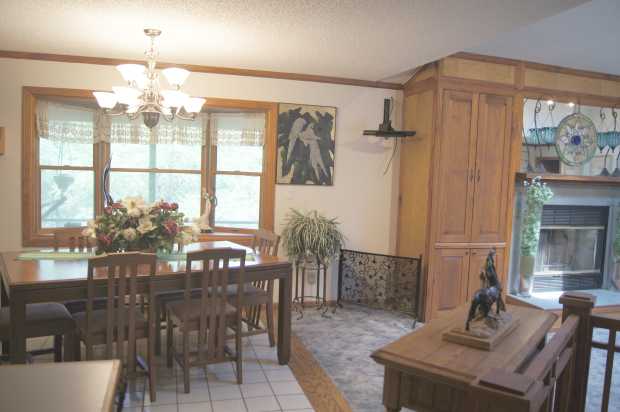 — A closer look at dining area, looking toward lake —
---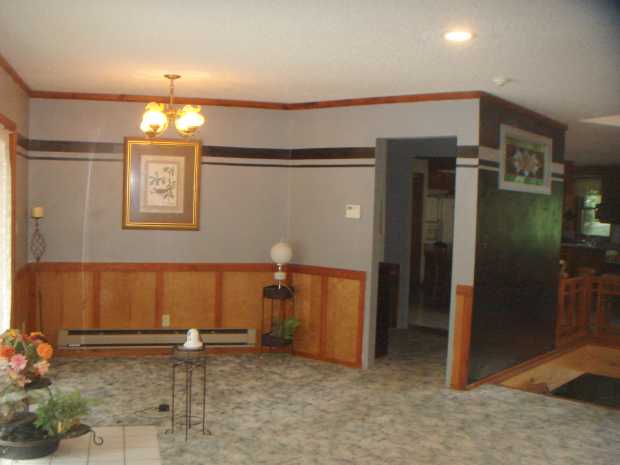 — Enclave to left of main house entry —
This area is separate from, but open to, the spacious living area (off camera to right).
---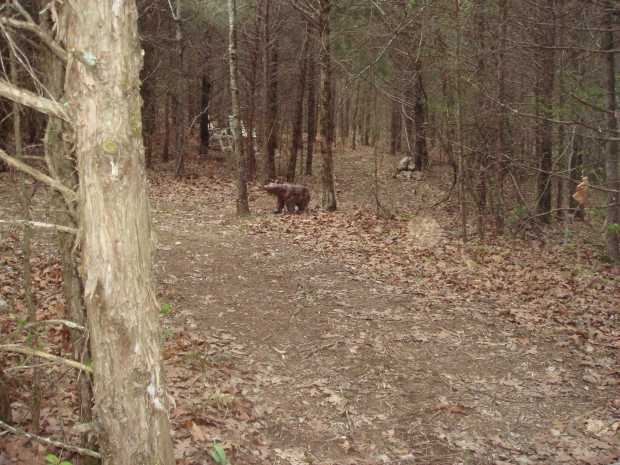 — A fork in the paths —
I once had this concrete bear marking where two paths forked. You can get lost in the maze of winding trails.
---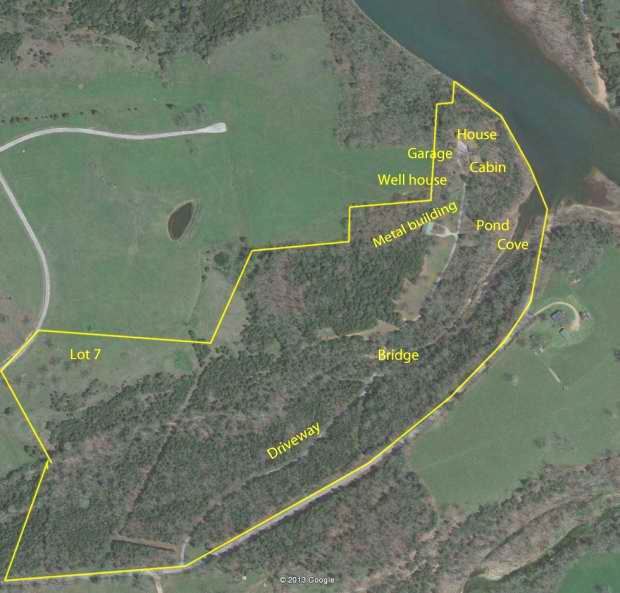 — Property boundaries —
I drew these lines myself from a Google Earth screen capture. Obviously, they
are approximate.
---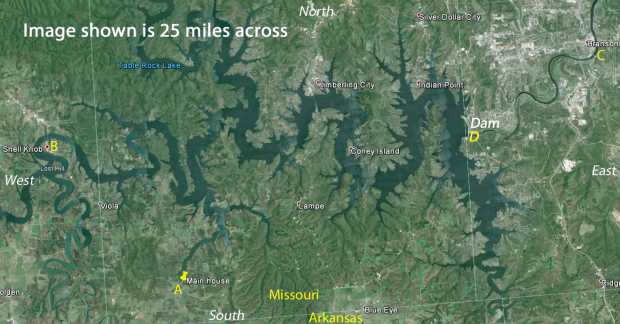 — Property, lake, and surroundings —
This Google Earth screen capture shows the locations of: (A) The main house (yellow pushpin at left-of-center in lower portion of image); (B) Shell Knob (farther left, just above vertical center), used for the mailing address, but actually 7.5 miles away, measured in a straight line; (C) Branson, Missouri (upper right); and (D) The Table Rock Lake dam (just above vertical center, mid-right).
The property is in Missouri, with the Arkansas border about a mile and a half to the south. There's a bit more of Table Rock Lake than you see here, but this is the central portion.
---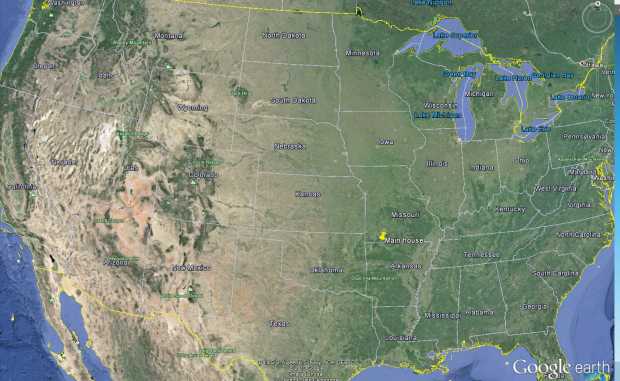 — Yellow pushpin shows property location on USA map —
---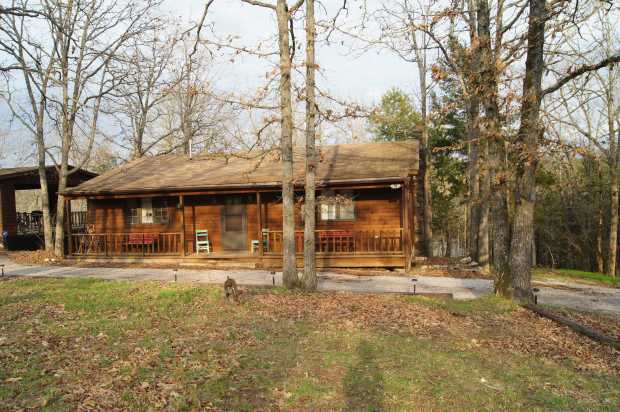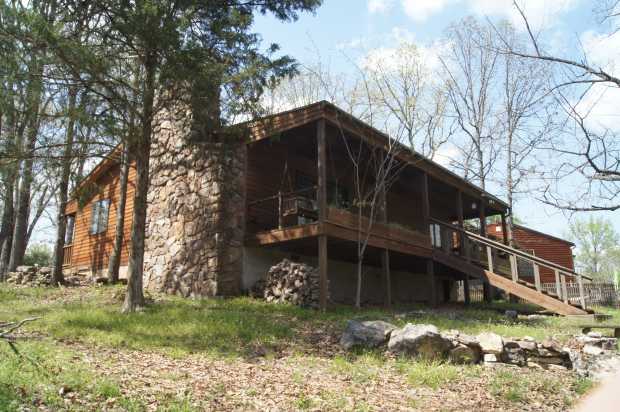 — Rear of cabin (main house in background) —
The huge chimney uses the same type of stones as the actual fireplace inside — all gathered from the property.
---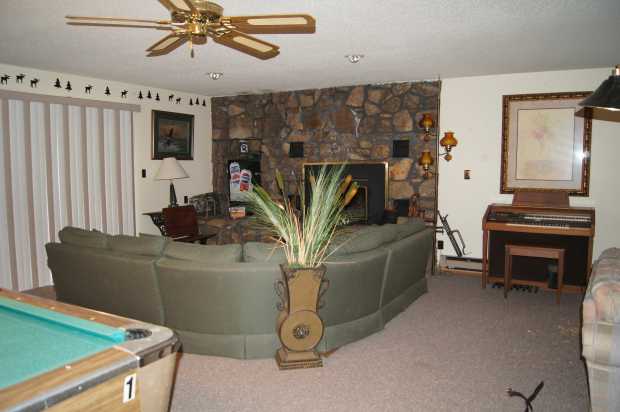 — Plenty of space for fireplace seating —
The vertical blinds at left are usually open. They hide a view of the lake and a sliding glass door to the balcony.
---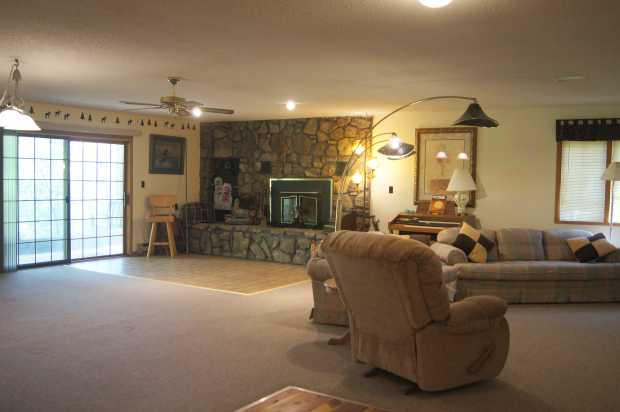 — The cabin's fireplace visually dominates its wall —
---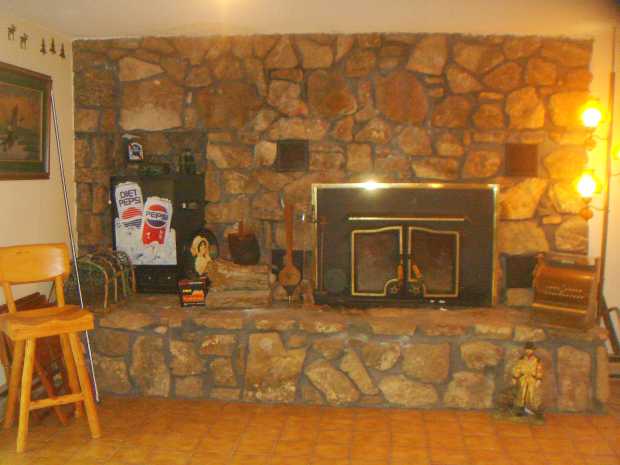 — Closer view of fireplace in cabin —
The Pepsi vending machine sits in a stone enclave intended for logs. You'll probably want to use it for that purpose.
$699,000 $395,000

---

→ 31 acres*

→ Shore: 1,000+ ft*

→ House: 3,000 sf* (3-5 bed, 3½ bath)

→ Cabin: 1,200 sf* (1 bed, 1 bath)

→ Extra: 2,400 sf*

→ Paths: 5 miles*

→ More

(*Approximate measurements)

---

What's the catch? None, really, except what I describe. Prices here are still catching up to the rest of the country.

Yes, I agree that it's a bargain, but only if this is what you're looking for. The 41-acre retreat was agent listed for $740,000 in 2012.

Please read my ramblings about my adventure, the property, the area, and the lake before you decide. I hope to sell to someone who appreciates my retreat and will be happy here.
---
My Ozarks adventure • My property • Area • Lake • FAQ • Photos
---