Deals for our Poker1 family
Back | Cart | Check out | Contact | Poker1 store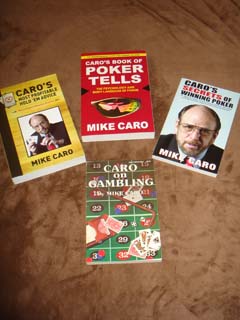 READ TO WIN (combo)
Some of the highest profit poker strategy and concepts ever published. Let Mike Caro help you win in dynamic new ways. This specially priced book bundle includes Mike Caro's Book of Poker Tells, providing over 170 photos and explanations of when opponents are bluffing and more; the complete missing arsenal — Caro's Most Profitable Hold 'em Advice; the textbook of greatest Caro Seminar teachings — Secrets of Winning Poker. Plus, the classic, collectible book, Caro on Gambling (selling individually at Poker1 for $20) as a free bonus.
Author: Mike Caro
Prices: $84.85
Cardoza / GT
Pages: 1,108
(softbound)
Copyrights: 2003, 2007, 2008, 1984
(See details below.)
READ TO WIN (combo)
Here is the most powerful winning poker information ever put in print. These four remarkable Mike Caro books (including the free bonus Caro on Gambling) give you the tools you need to conquer and command any poker table in the world.
Book included: ✓ Caro's Book of Poker Tells
— The Psychology and Body Language of Poker.

Classic Mike Caro book. Over 170 photos. Explains when players are bluffing, when they aren't, and why. Determine the strength of opponents' cards by their actions.

Author: Mike Caro
Cover price: $24.95
Cardoza Publishing
320 pages, softbound
2010 printing

Tells that redefined how professional poker players win!
Often, it's as if your opponents had turned their cards face up on the table!
Book included: ✓ Caro's Most Profitable Hold 'em Advice
— The Complete Missing Arsenal.

The ultimate hold 'em collection of Mike Caro's ground-breaking advice in a single monumental book. Sizing your bets right. Flop tactics. Bluffing. Starting hands. Motivation. Much more. Concepts not covered anywhere else. Almost every Mike Caro pioneering hold 'em lesson finally in one place.

Author: Mike Caro
Cover price: $24.95
Cardoza Publishing
408 pages, softbound
Copyright 2007

A remarkable hold 'em toolbox, combining proven tactics and seldom-discussed secrets!
Book included: ✓ Caro's Secrets of Winning Poker.

The most important profit-building tactics and advice known to poker. Based on Mike Caro's renowned seminars and training sessions, this specially crafted book actually shows the text of his slide presentations and explains each point, tip, and concept in easy to understand detail.

Author: Mike Caro
Cover price: $14.95
Cardoza Publishing
192 pages, softbound
Copyright 2008

Mike Caro takes everything from his powerful poker seminars and puts it in writing, explaining concepts and strategies in ways you'll never forget!
Free bonus book included: ✓ Caro on Gambling.

This rare out-of-print book helped ignite the modern gambling revival by eloquently focusing on revolutionary concepts and analysis. A pleasure to read and easy to understand, this is Mike Caro at his best, telling you which forms of gambling you can beat and which you can't. Of the 23 thought-provoking chapters, eight are dedicated to poker. A small quantity was recently discovered in storage. Not available anywhere else. A true collector's book.

Author: Mike Caro
Price: $20 in Poker1 store until sold out
Original 1984 cover price: $6.95
A Gambling Times publication
188 pages, softbound
Copyright 1984
This special collection from the legendary "Mad Genius of Poker," Mike Caro, has never been offered before. It's the proven training you need to pursue poker seriously and target every chip on the table!
Read to Win (combo)
Poker1.com is home to MCU
Mike Caro University
of Poker, Gaming, and Life Strategy
You might see Mike Caro University
on your credit card and billing statements.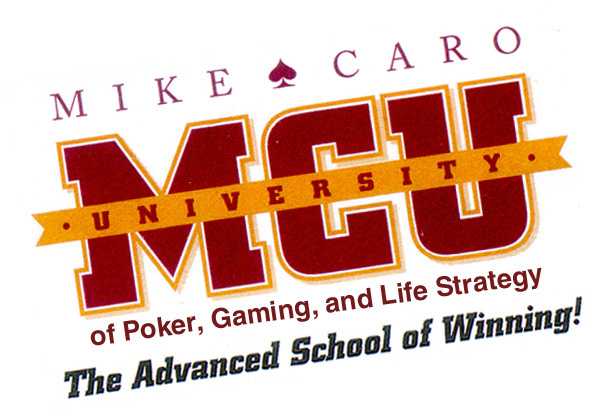 "Welcome to our Poker1 family!" —
Mike Caro
Contact | Poker1 store | Policies | Shipping | Top
---
---
---