Deals for our Poker1 family
Back | Cart | Check out | Contact | Poker1 store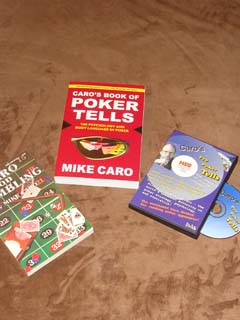 DESTROY YOUR FRIENDS (combo)
Here are the most powerful psychological poker weapons in history. This specially priced mini-bundle includes Mike Caro's Book of Poker Tells, providing over 170 photos and explanations of when opponents are bluffing and when they hold strong hands. Often, it's as if they'd spread their cards face up! And the added Caro's Pro Poker Tells DVD shows you these pure-money tells in motion. Plus, you get the classic, collectible book, Caro on Gambling (selling individually at Poker1 for $20) as a free bonus.
Author and presenter: Mike Caro
Combined prices: $94.90
Cardoza Publishing / MCU / GT
Pages: 508 combined (softbound)
DVD 90 minutes
Copyrights 2003, 2004, 1984
(See details below.)
DESTROY YOUR FRIENDS (combo)
We call this combo "Destroy Your Friends at Poker," not because
Mike Caro thinks you should, but because you can! In fact, you'll have the potential to destroy any poker game on the planet by using tells and psychology. We marry Mike Caro's book and video on tells to explain everything you need to know about reading your opponents in easy-to-understand words and pictures — and then you see it in motion on the DVD. (Plus, you get the important free bonus book Caro on Gambling.)
Book included: ✓ Caro's Book of Poker Tells
— The Psychology and Body Language of Poker.

Classic Mike Caro book. Over 170 photos. Explains when players are bluffing, when they aren't, and why. Determine the strength of opponents' cards by their actions.

Author: Mike Caro
Cover price: $24.95
Cardoza Publishing
320 pages, softbound
2010 printing

Tells that redefined how professional poker players win!
Often, it's as if your opponents had turned their cards face up on the table!
DVD included: ✓ Caro's Pro Poker Tells.

In 90 electric minutes, Mike Caro will show you the world's most profitable poker tells in motion! See for yourself when opponents are bluffing, when they aren't, and learn why. Based on his classic poker tells book, Caro uses real poker players, cards, chips, and tables. He demonstrates once and for all how you can extract free money from opponents who are unknowingly telling you what cards they hold. Finally, this amazing video makes the science of poker body language easy to understand.

Presenter: Mike Caro
Price on product: $49.95
Mike Caro University (MCU)
Running time: 1 hour, 30 minutes
Copyright 2004

Finally! Actual video of poker's most profitable tells in motion.
Free bonus book included: ✓ Caro on Gambling.

This rare out-of-print book helped ignite the modern gambling revival by eloquently focusing on revolutionary concepts and analysis. A pleasure to read and easy to understand, this is Mike Caro at his best, telling you which forms of gambling you can beat and which you can't. Of the 23 thought-provoking chapters, eight are dedicated to poker. A small quantity was recently discovered in storage. Not available anywhere else. A true collector's book.

Author: Mike Caro
Price: $20 in Poker1 store until sold out
Original 1984 cover price: $6.95
A Gambling Times publication
188 pages, softbound
Copyright 1984
Mike Caro's poker tell training can pay for itself very quickly. How quickly? Well, if you play middle limits or higher, just getting one tell right can be worth more than the price of this combo. Find out why so many thousands of serious poker players rely on Mike Caro's advice. It's an amazing Poker1 combo for players serious about making money at poker, using Mike Caro's acclaimed methods for reading opponents.
Destroy Your Friends (combo)
Poker1.com is home to MCU
Mike Caro University
of Poker, Gaming, and Life Strategy
You might see Mike Caro University
on your credit card and billing statements.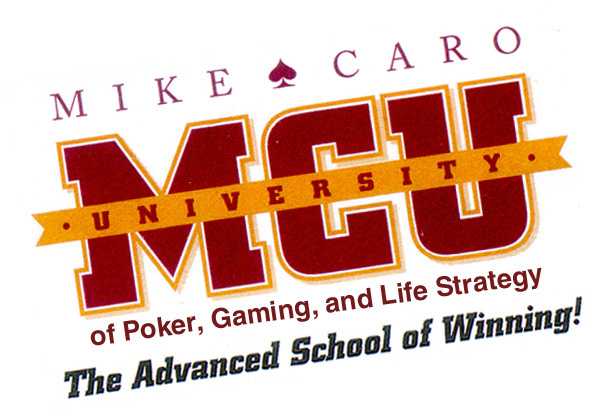 "Welcome to our Poker1 family!" —
Mike Caro
Contact | Poker1 store | Policies | Shipping | Top
---
---
---