Deals for our Poker1 family
Back | Cart | Check out | Contact | Poker1 store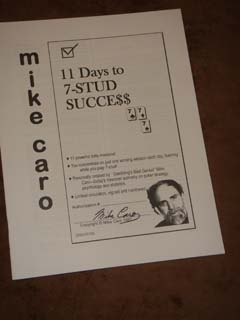 11 DAYS TO 7-STUD SUCCESS
Exclusive, limited circulation learning, signed and numbered. Each time you play, for 11 days, Mike Caro sends you on a seven-card stud mission. You read what your assignment will be, then perform it, and finally return to read the follow-up discussion. It's just that simple. By focusing on only one thing each session, everything miraculously begins to fall into place. One of the most powerful seven-card stud training programs of all time!
Author: Mike Caro
Thousands sold at $19.95
Limited circulation
Signed and numbered
Mike Caro University (MCU)
Pages: 24 extra large
(Equal to 96 book pages)
Copyright 1989
(See details below.)
11 DAYS TO 7-STUD SUCCESS
Using a powerful poker training technique, fondly described as the "Mike Caro Method," you'll be given assignments to carry out at the poker tables. After you complete each day's mission, you'll return to the pages of 11 Days to 7‑Stud Success to study the follow-up advice. By concentrating on just one key to mastering seven‑card stud at a time, you'll find that everything else is falling into place, just the way Caro says it will. This astonishing short study plan brings winning into focus in just 11 sessions!
Printed report style on 24 large pages, this is seven‑card stud training engineered to make you focus on pure profit in the future.
The Mike Caro Method teaches highly profitable seven‑card stud disciplines the easy way. You complete simple missions. After only 11 sessions, it all falls together and you will have mastered the surprising tools needed to beat seven‑card stud for life!
Far and away the best method for training yourself to accomplish some of seven‑card stud's most valuable disciplines and never play flawed strategy again.
You perform these powerful missions once and they stay with you forever!
Only 11 sessions at the table and your seven‑card stud game is magically elevated to fantastic new levels.
Rather than covering complex tactics, Mike Caro guides you through the most important keys to long-term seven‑card stud success. When you're done, you'll be able to continually improve your game for life. But that can't easily happen without these powerful, proven basic missions. For many players, just these 11 carefully chosen sessions by themselves can make the difference between winning and losing.
11 Days to 7-Stud Success
Poker1.com is home to MCU
Mike Caro University
of Poker, Gaming, and Life Strategy
You might see Mike Caro University
on your credit card and billing statements.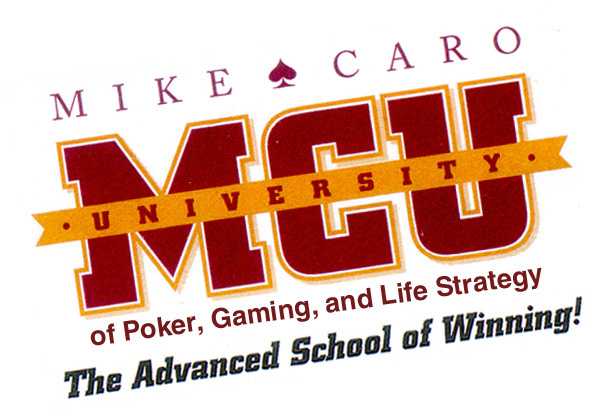 "Welcome to our Poker1 family!" —
Mike Caro
Contact | Poker1 store | Policies | Shipping | Top
---
---
---