Deals for our Poker1 family
Back | Cart | Check out | Contact | Poker1 store
BRUNSON'S SUPER/SYSTEM
— A Course in Power Poker
This is legendary world champion Doyle Brunson's acclaimed poker bible — the book that launched the scientific poker revolution in 1978. Packed cover to cover with expert advice about hold 'em (limit and no-limit), 7-stud (high, low, and split), draw poker (high and low), and more. Includes ground-breaking advice from David Sklansky, Chip Reese, Bobby Baldwin, and two acclaimed sections by Mike Caro (draw and statistics).
Author: Doyle Brunson
Cover price: $29.95
Cardoza Publishing
605 pages, softbound
2002 edition
(See details below.)

[cc_product sku="b-008″]
BRUNSON'S SUPER/SYSTEM
— A Course in Power Poker
In 1977, Doyle "Texas Dolly" Brunson — the legendary world poker champion and member of poker's hall of fame — began work on the how-to book that would alter poker forever. In collaboration with the five experts that he considered to be the best players alive at their speciality forms of poker, Brunson launched his monumental, yearlong educational project. He was determined to set the record straight about what poker advice helped you win and what didn't. The rest is history.
Study Doyle Brunson's secret method for conquering no-limit poker games.
Explore the science of five-card draw with Mike Caro.
Let Brunson and David "Chip" Reese teach you the greatest professional secrets of seven-card stud.
Then Brunson teams with Joey Hawthorne, David Sklansky, and Bobby Baldwin to present timeless full-featured chapters on five-card lowball, seven-card high-low split, and limit hold 'em.
Seven-card razz (lowball) advice included!
The intense poker training concludes with Brunson's myth-shattering focus on no-limit hold 'em and the winning techniques that have stood the test of time.
Finally, Mike Caro contributes 46 odds tables on all the major poker games, bringing statistical accuracy to poker for the first time.
Never in poker has one book been so celebrated. It obviously should be in every serious player's poker library — and for most world-class pros, it already is. You'll understand why when you begin to read the poker pages that finally made winning possible.
Brunson's Super/System

[cc_product sku="b-008″]
Poker1.com is home to MCU
Mike Caro University
of Poker, Gaming, and Life Strategy
You might see Mike Caro University
on your credit card and billing statements.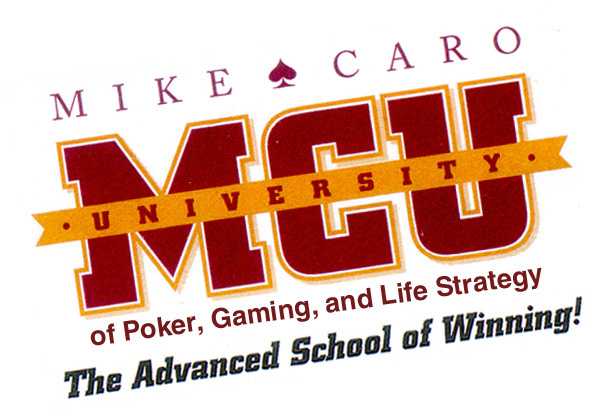 "Welcome to our Poker1 family!" —
Mike Caro
Contact | Poker1 store | Policies | Shipping | Top
---
---
---