Deals for our Poker1 family
Back | Cart | Check out | Contact | Poker1 store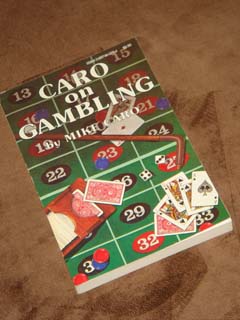 CARO ON GAMBLING
This rare out-of-print book helped ignite the modern gambling revival by eloquently focusing on revolutionary concepts and analysis. A pleasure to read and easy to understand, this is Mike Caro at his best, telling you which forms of gambling you can beat and which you can't. Of the 23 thought-provoking chapters, eight are dedicated to poker. A small quantity was recently discovered in storage. Not available anywhere else. A true collector's book.
Author: Mike Caro
Original 1984 cover price: $6.95
A Gambling Times publication
188 pages, softbound
Copyright 1984
(See details below.)
CARO ON GAMBLING
These are the pages that made history by shattering long-held gambling myths and brought the science of wagering to the world. Long out of print and extremely hard to find, a very limited number of original copies are once again available.
The first book by Mike Caro ever published.
Putting probability on your side once and for all. Page 162.
A collector's dream purchase — totally unexpected!
Poker, casino games, various bets, motivation, and much more.
The first-ever precise strategy for video poker. Page 51.
Some of the most powerful writing about gambling ever published. Mike Caro at his best.
23 incredible chapters you'll never forget.
A rare Mike Caro book. A rare opportunity. Available only while the remaining supply lasts.
Caro on Gambling
Poker1.com is home to MCU
Mike Caro University
of Poker, Gaming, and Life Strategy
You might see Mike Caro University
on your credit card and billing statements.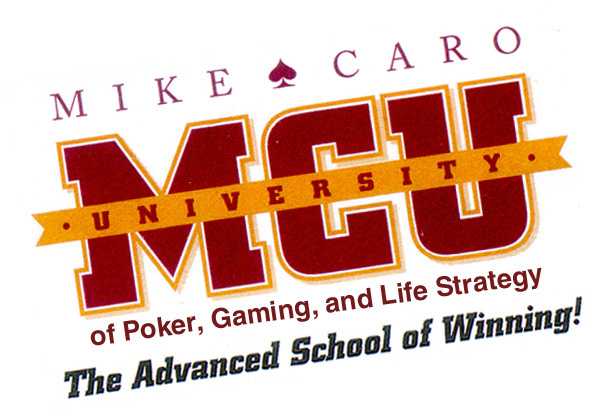 "Welcome to our Poker1 family!" —
Mike Caro
Contact | Poker1 store | Policies | Shipping | Top
---
---
---