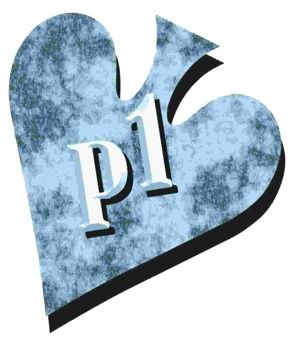 ---
Note: Not at the old Poker1 site. A version of this entry was originally published (2011) in Bluff magazine.
---
It's time to share some truth about poker. Heavy truth. Hard truth.
Let me ask you a question. What's the main trait separating consistent winners from skillful players who spin their poker wheels without making lifelong profit? It's difficult to say, but that never stopped me from saying it, anyway.
Equal
The difference could be mastery of poker tactics or the ability to correctly identify tells. It could be. But it isn't.
The truth is that there are large numbers of both break-even players and big winners who have approximately equal poker skills. Let me repeat that: Poker players who break even for their lifetimes are often just as skillful as players who make lots of money. There, I said it, and I'm proud. You can argue, if you must, but this isn't really an appropriate time. This is a time to sit silent and listen. If you still disagree later, then you can complain. Deal?
A list
If you have strong technical skills at poker, but don't seem to win consistently or win period, I know what the problems might be.
You're not trying to play your best game all the time. Sometimes, you get frustrated or distracted and you stop caring quite as much. You know I'm right, but don't be insulted. This happens to most players. Poker is frustrating and fate can be unfair. Even the majority of world-class players have struggled with poker frustration and allowed themselves to be slapped silly by bad luck and lose focus.The trick is to decide that you're going to play your best game all the time – every deal. Expect to occasionally fail, though. The moment you find yourself straying, steer back on course. Immediately. Don't fret over what just happened. That's history. You've made the correction and you're headed toward the money again.

But, wait! Steering back on course in poker isn't psychologically simple, is it? In fact, once we stray off course, powerful urges prompt us to stubbornly stray even further, rather than to make a correction. How come?It's because of "Scratched Car Disease." What's that? It's the condition where you start out every poker session determined to play perfectly, just like someone hoping to keep a new car unblemished forever. But you make a mistake and your perfect day is ruined. It's the same thing with the new car and that first scratch. No more perfection. You stop caring as much about playing well and about the car.

I'm asking you not to do that. Start fresh. Keep your car as flawless as possible from this point on. And play poker as well as you can, starting now. Your future poker success always begins with the next deal. It can never begin with a previous deal, because that's history; it's already in the books; it's not something you can use your skill to change.

You might also be feeling unlucky and broadcasting that to opponents. Never do that. Opponents feel inspired and play better if they think you're unlucky. Your good luck is what they fear most. If the cards are running bad, lie. Tell opponents you've been luck and that you feel lucky. You'll be helping your image greatly.

You might have lost so much that you've maximized your pain and additional losses don't make you feel any worse. That's what I call crossing Caro's Threshold of Misery. When that happens, either quit the poker game or remind yourself that even though cutting your loss from $8,417 to $8,010 doesn't feel like it matters now, that's still $417 won, and there will come a time when it does matter.

You might be losing or winning less than you should, because you're concerned that you might be getting cheated. Let me give you some advice.Usually, poker players suspect cheating when it isn't really happening. But sometimes it is. And just the fear that it might be happening is often enough to cause us to play less than optimally. If you're worried about the integrity of a game, whether or not that concern is justified, quit. Otherwise much of your mental energy will be consumed concentrating on your fears, and you won't have enough time to make quality decisions.

Decades ago, I defined Fancy Play Syndrome. It happens when you feel superior to your opponents an want to impress them. Often you do this by choosing the most creative play, while the most obvious play is much more profitable. FPS affects many skillful players and is the reason they either lose or don't win as much as they should.

You can save a lot of money by not playing poker when real-life events are distracting you. I've seen quality players lose night after night when their personal lives interfere with their poker judgment.

It's easy to forget that poker isn't about winning pots. Typically, players who win the most pots lose the most money. That's because they play too many hands. Forgetting that the object of poker is to make good decisions, not to win pots, is the biggest single reason many skillful players fail.
So, why can some skillful poker players make good livings, while others with similar skills lose for life? I've just given you eight reasons. The better you understand them, the more likely you are to be on the winning side of this great divide. — MC