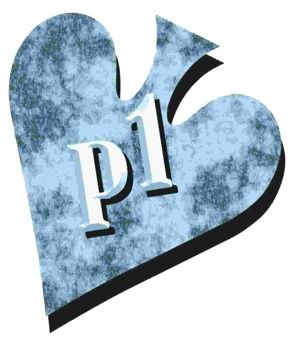 ---
Note: Not at the old Poker1 site. A version of this entry was first published in Card Player. This entry in the "Aunt Sophie" series covers pan (or panguingue), which is a multi-player form of rummy, often played for money.
---
A heart for Aunt Sophie
"Do you know what day it is today?" asked a familiar voice.
"Of course," I replied into the phone; "why do you think I'm here and not out playing cards? It's Valentine's Day."
"Right," continued my Aunt Sophie, "it's Valentine's Day. And you, you misanthropist, you're hiding at home."
"Aunt Sophie," I gently corrected, "I think the word you're looking for is misogamist. A misanthropist hates mankind. A misogynist hates women. And a misogamist hates marriage. I just don't want to get married."
"What kind of ist you are I don't care," Aunt Sophie put in. "It's no good you hiding in there all the time when you're not playing cards. You need to meet people."
Settling down
"Aunt Sophie," I chided, "by `meeting people' I know you mean finding a nice Jewish girl, getting married, and settling down. I'm not ready for that."
"But Dollink," she pursued, "it's the big pan tournament at the Anaheim Club, and I was looking for company. They'll also be having $100-condition side games. With all those high rollers in the pan game, there's sure to be spillover into the poker games. Might be some good games for you to get into."
"Nope," I insisted, "Today is a dangerous day for me, and I'm staying in."
"Listen, Boychik," she interjected, "you're not the only one who's hurting on this day. I just feel like crying everytime I wake up on a special day and lying in bed all day. Especially Valentine's Day. That always had special meaning to me and Uncle Max. Always two dozen red roses he would give me, or a big box of See's Candy, because he knew how much I liked that, and usually both. We would always go out to some place special for dinner. You think this day isn't hard on me, too? I know how you're hurting inside. I'm hurting, too. I could just give up, but I'm not. I'm looking for companionship. Uncle Max would have wanted that. I'm going to play in the pan tournament, and maybe I'll win something, and maybe I won't, but I'm not going to wallow around in a lot of self-pity. You know, when I have you meet a nice young lady, it's because I want you to be happy. I would like you to know the happiness I had for years with your Uncle Max. Yes, it's gone, and I miss him so much sometimes I can't stand it, but then I remember the happiness we shared, and I know that was a gift, and that's what I must think of. Maybe someday you'll find somebody, but you got to give it a try. You can't just hide your love away forever. Now I'm going down to the Club this afternoon and I'm not going to be miserable just because I have an ist for a nephew."
I tried to respond, but the line was already dead.
* * *
"Yes," said the voice, "who is it at the door?"
"It's me," I answered.
"Coming, Dollink, coming," came back the voice, and soon the door opened. She was wearing a red dress trimmed with white lace and a diamond heart brooch pinned to the bosom. I handed over the white rose in a cut glass bud vase encircled with a red velvet ribbon.
"Aunt Sophie," I spoke, "I can't take Uncle Max's place, but I love you. Now, would you like to go play some pan?"