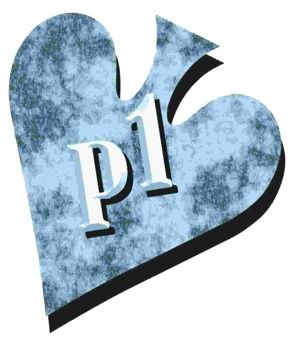 Entry #7 (2010-05-02)
It looks as if I'm becoming only an occasional blogger. Adding regular content to Poker1 has been eating up most of my time.
Anyway, this is a sad day for me. My longest, proudest streak has ended. For 30 years, I've never missed a column or public appearance. Yesterday I had agreed to be a guest on Michael King's radio show, "King's Poker." It broadcasts live on "Hold 'em Radio" to 49 traditional over-the-air stations and to the Internet. You can find King's web site here (or by clicking on the web image at left, below).
If you go there quickly, you'll see that I haven't yet been banished, despite the fact that I didn't "show" yesterday. The interviews are done by phone, and I was waiting in my office for King's techs to call. Unfortunately my lines were still transferring to a remote MCU location. So, time just flew by until I scratched my head and thought, "Wasn't I supposed to be on the radio?"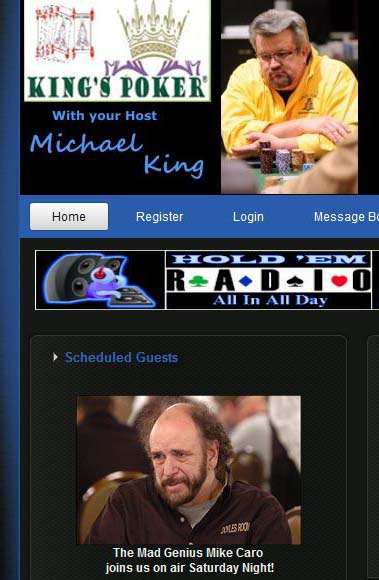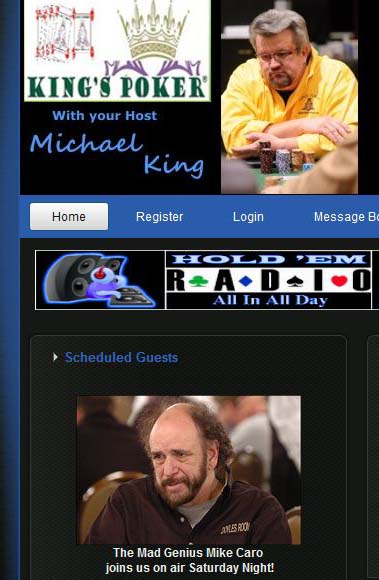 So, I'm embarrassed and sad. I guess that's the good thing about blogging — I get to unload my misery on you. No more perfect streak for the Mad Genius.
Just so you know, I take any radio "appearance" just as seriously as if it were a TV interview with ABC or ESPN — and that's obviously true for a broadcast with a wide-ranging audience like King's. Even if it were a smaller show, a commitment is a commitment. And I publicly apologize to Michael King. Graciously, he didn't yell at me and has asked me to be on his show next Saturday at 7 p.m. Eastern. This time, I'll either be there or I'll be dead. Kind of a coin flip, huh?
Poker1.com status
Just to share some information with you: The new Poker1 hasn't reached anywhere near the level of traffic that the old site had, before being abandoned when presumably well-meaning techs broke the code five years ago. But we're climbing skyward, even though I haven't made any major announcements. It's still our secret, but we're averaging just over 1,000 visits a day (April measurement), with about 1.4 million hits since opening quietly to the public March 16. (Hits are a silly web measurement, by the way, since they include everything that's downloaded. When you opened this blog entry, you generated at least three hits, because there are two graphics elements.) Hopefully, we'll have respectable figures by the time we officially go live — enough to get a running start.
So that you understand, we're looking at our stats realistically, using core server data to evaluate. Because we use extensive caching to speed up Poker1, many other types of traditional traffic analysis are subject to error. A few days ago, I compared my results on Google Analytics to the small campaign I'm paying for on Google AdWords. Guess what? I payed for about 350 visitors that day, while GA reported a total of 280. That meant that AdWords was accounting for 125 percent of Poker1 visits! It soon became clear that AdWords was correct and we weren't being overcharged. We actually had over 1,100 visits that day.
So, just between us, the numbers aren't where we want them, but they're growing very rapidly. I'm guessing we're about two months away from officially opening.
I'd like to thank you for coming early. I'm surprised by how many of you are following the development changelog on the home page. That's cool. It's makes me feel good about myself on a day when I probably shouldn't.
And thanks for being among the first pioneers on our new Poker1 adventure! — MC