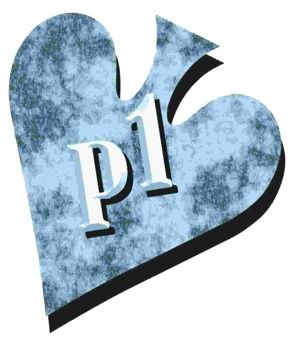 ---
Note: Not at the old Poker1 site. A version of this entry was originally published (2007) in Bluff magazine.
---
You should learn hold 'em by first memorizing two main profit concepts:
Your most important decisions involve your first two cards.
If you don't fold, the flop will usually disappoint you.
Those two concepts aren't trivial. They combine to form a key to the meadow where money grows. The key unlocks the 20-ton gateway to your success at hold 'em.
Point #1 is: Your most important decisions involve your first two cards. You need to be selective about which hands you play. No matter how good you are, if you play every hold 'em hand, you'll lose. So, you've got to discipline yourself not to play most hands. You need to realize — and remind yourself frequently — that every time you fold a starting hand correctly, you've earned money. You grow richer and richer as you fold.
That's an easier concept to grasp intellectually than it is emotionally. The money you earn is the same money that you didn't lose by pursuing a pot when it wasn't profitable. Sure, you're abandoning all chance of winning the pot by folding, but you must learn to never think in terms of winning pots. Your eventual profit in poker doesn't come from winning pots; it comes from making good decisions.
The truth
If you imagine how much you'd win or lose if you played all similar pots to their conclusion, you can see the truth. The truth is that even if you win the pot, you've actually lost money if all those similar pots averaged together would have resulted in a loss. Over time, you will win or lose approximately what you mathematically expect on each hand, regardless of the immediate outcome. Over the years, all those savings will add up. That money remains in your pocket, and you can spend it.
Of course, in determining which hands to play and fold, you need to remember that the earlier your position, the more selective you need to be. That's because the earlier you enter a pot, the more apt you are to act first on subsequent betting rounds. And acting first is a distinct disadvantage, because opponents get to see what you do before making their decisions. In the earliest positions, in a full-handed game (nine or 10 players), you might even be so selective that you only play pairs of aces, kings, or queens, plus ace-king (suited or unsuited). Depending on the playing styles and abilities of your opponents, you might liberalize that, but not greatly. In later positions, after opponents fold, you can become much more liberal about the hands you select, until in the dealer position, you can raise with king-jack and show a reasonable profit.
But today I'm not providing guidelines for starting hands. I just want you to understand the concept that selectivity is vital and you can play more liberally in later positions. The weaker your opponents, the more starting hands you can play, because you can gain ground by out-playing them on future betting rounds.
Point #2 is: If you don't fold, the flop will usually disappoint you. If you don't grasp this, you'll go through your whole hold 'em life feeling cheated by fate. Unless you hold a pair of aces or kings, most of the time the flop will leave you vulnerable. Usually, you won't connect in ways that will help your hand. If you hold 7-7, then any flopped card higher than a seven means opponents might have made a higher pair. If you begin with ace-king and don't pair or make an unlikely straight on the flop, you're in trouble. Most of the time, you're going to be in trouble when you see the flop.
The key
Remember the two parts that form the key. First, the most important decisions you make involve how you play on the first round of betting, and you need to fold most of the time. By folding, you actually earn money. Second, whenever you decide to play, the flop will usually make you unhappy. Usually, if you had your choice, you'd have the dealer reshuffle and deal the flop again.
To maximize profit, raise less frequently before the flop than most aggressive players do. This isn't because you're a wimp. I teach that you should play an aggressive, but selective style of poker. But before the flop in hold 'em isn't always the best place to display this style.
Yes, there are times when you can dominate opponents by pre-flop aggressive play, sometimes chasing them away, but pre-flop raises are vastly overrated. Even if you have an advantage, it may not be enough to justify a raise. Poker theory tells us that you often need a substantial advantage to raise, because you can face reraises from opponents who, unexpectedly, have even bigger advantages. But the fact that the flop will usually disappoint us diminishes the perceived advantage of most hold 'em starting hands.
If hold 'em were played by dealing one communal card at a time, followed by separate betting rounds, it would make more sense to raise aggressively with quality starting hands. But with three cards at once, the prospects for both you and your opponents are defined by the flop. You'll usually be disappointed, and so will they. We really don't know what's what until the flop.
Often the value is in waiting and seeing what develops on the flop. Then if you have a great advantage, you can pursue it. The most profitable hold 'em style is to play more aggressively after seeing the flop than before seeing it. Not always, but usually.
Skillful players often give weaker opponents too much of a chance by building a big pot before the flop. Often, they would have better control of inferior opponents by waiting. Against an opponent of equal ability, it would be perfectly fine to move all-in with 10-10 against K-J. You'd have a slight advantage. But against a weak opponent, you really want to see the flop. Then, if the flop is A-K-6, you can cheaply abandon your hand. And if the flop is A-10-4 or 6-4-2, you can become the aggressor.
Be aware that hold 'em is a game where the flop defines your hand and will usually disappoint you, and you won't be frustrated by "bad" flops. And you can tailor your game in accordance with this great truth. Use the key. — MC