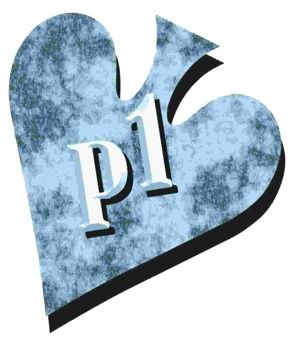 ---
Note: Not at the old Poker1 site. A version of this entry was originally published (2011) in Bluff magazine under the same title.
---
The way we perceive poker can be just as important as the way we play it. That statement doesn't make sense at first. You're thinking that if you play poker correctly, then it doesn't matter what you perceive. You'll still win.
That's true, so I must be failing to communicate my point. Try this. You can't play poker profitably unless you understand the foundation for your decisions. The right choices won't just flitter and float your way out of a mysterious medicine bottle. So, here's a short list of a few faulty perceptions many poker players share. They all cost money, because they lead to bad decisions.
Streaks. Many players think that poker is governed by winning streaks and losing streaks. It isn't. If this were true, there would need to be some force overseeing these streaks, making certain that they continue. The force would have to care enough to closely monitor what's happening at the poker table and make sure things keep running hot or cold – deciding to be either your friend or your enemy by whim.
The truth is that every new hand dealt is totally independent of all of those that came before. You see streaks after they've already happened. It's easy to prove, by examining actual databases of hands played online in honest games, that getting a superior hand on the very next deal is no more and no less likely than it would have been had there been no history.
Changing your decisions because you think you're riding a lucky or unlucky streak can cost money. There is a psychological exception, though. It has to do with how opponents think about you. When you're conspicuously winning, some opponents are more intimidated and you can play more borderline hands for extra profit. And when you're conspicuously losing, some opponents are inspired and play better against you. When that happens, you need to be more cautious about hands you enter pots with and about bets you make.
But, in general, it's dangerous to believe that streaks influence the cards in any way. They don't.
You're due. You'll hear poker players say that they're due to get a good hand, because they haven't had one in a while. That's silly. As we've already discussed, the next deal is independent of every previous one, so there's no "due" factor.
You should ignore the whole notion of luck in making poker decisions. Some players have been luckier, true. Some people have been luckier in life. Some unluckier. But that doesn't influence the likelihood of random trends continuing or stopping. Always play the next hand on the assumption that your chances of getting favorable cards in your hand and on the board are exactly the same as another player's – whether he or she or you has previously been running good or bad.
Again, there's no force obsessing over your poker game, deciding to make up for past misfortune and declaring you're due.
The best poker players eventually win, no matter what game they're in. That's a misconception. Expectation of profit or loss is a measurement of your skill compared to the other players at your table right now. Nothing more.
That means some very skillful players can expect to lose when matched against superior foes at a world-class table. And some mediocre players can expect to win when matched against weak opponents. It's the difference between you and your competition that matters, not how good you are, in general.
That's why many second-tier poker players win year after year, while some world-class players don't.
Players who reverse tells make it impossible for you to read them. No, they don't. Players who try to influence you by acting always want to seem weak when they hold strong hands and strong when they hold weak ones. Period.
A few players may try to trick you by falsely conveying a tell. They're flattering you by giving you credit for knowing what the tell should be and using it in reverse. Fine. But they're still trying to appear strong when weak and weak when strong. Once you see an opponent reverse a tell, you can expect that behavior to continue. And that player becomes easy to read in reverse.
By the way, most standard tells actually help the player who's conveying them. That's because the most common tells are instinctive and occur because the player is uncomfortable about being read and wants to deceive an opponent. This instinctive act works! At least, it works against most players who are unaware of "tell science." So, reversing tells can be costly against most opponents. That's why I said that someone who does it is paying you a complement – and can be easily read in the future.
You should quit when you're ahead. That's dumb. Often you're ahead because the game is good. So quitting to preserve a win is likely to prevent you from making more money under favorable conditions.
There's no disgrace in turning a win into a loss. Poker success is about taking chances with an advantage. It's not about running and hiding, fearing you might lose. — MC