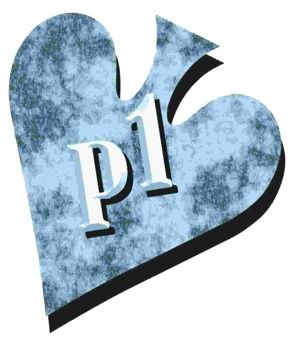 Entry #35 (2013-06-22)
Dick Turnbull links the lives of the legendary poker champion Doyle Brunson and me. And that link has nothing to do with poker. It happened decades before I met Doyle.
But I'll get to that in a minute. Right now the important and terrible truth is that Dick is dead. He died crossing a street in Las Vegas, while there to deal once more at the World Series of Poker. Killed by a car.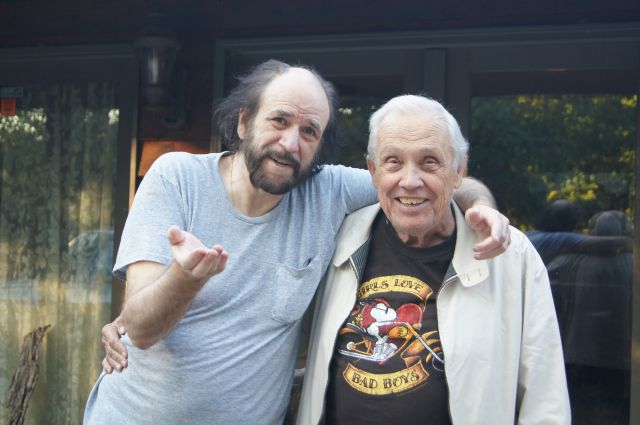 Dick Turnbull (right) with Mike Caro in front of the main house at Mike's Ozarks hermitage, September, 2011. Dick's shirt reads, "Girls love bad boys."
---
According to a Las Vegas Sun article, he was walking across Rainbow Boulevard Thursday night (2013-06-20) and not in a crosswalk when he was struck. He was declared dead at University Medical Center. He had been the oldest dealer at the World Series of Poker.
(I've included links to several stories, including that one, at the bottom of this entry.)
Connections to Doyle, me, and my mother
My memories of Dick go way, way back. Back to when I was still in high school. He was an intellectual, a fact probably not known by most poker players accepting the cards he delivered or by his fellow dealers. He kept his past glories quiet. I met him when he was a leadership trainer for Great Books discussions groups in the early 1960s. I was one among the discussion leaders he trained.
Other events bound us throughout life. He survived a car crash, where my mother died at the scene. A young woman was at the wheel, in route to a Great Books meeting, when the three were struck broadside by a drunk driver. Dick told me that Mom died quickly and at peace.
The most curious coincidence in our intertwined lives involves Doyle Brunson. I met Doyle in 1977 during the planning of his soon-to-be poker bible, Super/System — A Course in Power Poker," to which I contributed two chapters. At the time, neither Doyle nor I realized that we had Dick Turnbull as a common link in our pre-poker pasts.
Not to be
You see, Doyle's life could have been quite different from that as a poker superstar. He could have been a professional basketball star, instead — continuing with his acclaimed college hoops prowess.
But that was not to be, because an industrial accident shattered Doyle's leg. Who witnessed that tragedy and comforted Doyle while he lay in painful shock? Richard Turnbull.
Small world. And one that will be a bit emptier without Dick.
In the fall of 2011, Dick visited my Ozarks hermitage and stayed in the cabin next to my house for several weeks. I taught him new stuff about the Internet, returning the favor from almost 50 years earlier when he'd taught me lifelong lessons through his quick wit and logical reasoning. I even coaxed him into riding an ATV and hiking briskly along my miles of steep paths through the forest.
Those were young activities. But he was only 84 then. Time stopped for him at 86. — MC
Some related links: