Deals for our Poker1 family
Back | Cart | Check out | Contact | Poker1 store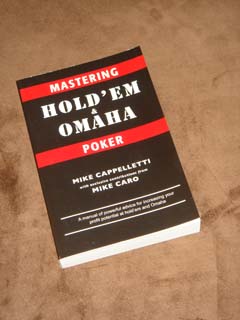 MASTERING HOLD 'EM AND OMAHA POKER
Noted expert Mike Cappelletti authors a book that brings powerful insights and reveals winning secrets behind the misunderstood high-low "brain game" of Omaha. The book includes a large hold 'em section, incorporating many of the most profitable teachings of Mike Caro.
Author: Mike Cappelletti
(with Mike Caro content)
Cover price: $19.95
Cardoza Publishing
328 pages, softbound
Copyright 2007
(See details below.)
MASTERING HOLD 'EM AND OMAHA POKER
Mike Cappelletti breaks new ground by thoroughly analyzing Omaha and Omaha high-low poker. His penetrating instruction provides guidance for profitable decisions at every stage of the action. In-depth, winning hold 'em tactics are presented by exclusive agreement with Mike Caro, using words and wisdom directly from Caro himself. Finally, here's a remarkable book combining advanced Omaha training with powerful, right-on-the-money hold 'em advice!
Aimed at the new millennium and beyond, these hot pages sizzle with serious solutions for Omaha and hold 'em.
How to get opponents who are targeting only half the Omaha high-low pot to commit their chips at poor odds. Page 167.
From the basics to the most advanced, it's a complete game plan for dominating your next Omaha and hold 'em games!
Avoid losses by identifying and understanding unprofitable
hold 'em hands. Page 60.
Additional notes from Mike Caro throughout the Omaha sections.
Complete starting-hand guidelines for hold 'em by position.
Page 265.
Hundreds of carefully chosen tips and techniques for serious poker students — all in one place!
Let Mike Cappelletti and Mike Caro team up to give you the Omaha and hold 'em ammunition you need. This solid advice is expertly presented to be easy to follow and remember.
Mastering Hold 'em and Omaha Poker
Poker1.com is home to MCU
Mike Caro University
of Poker, Gaming, and Life Strategy
You might see Mike Caro University
on your credit card and billing statements.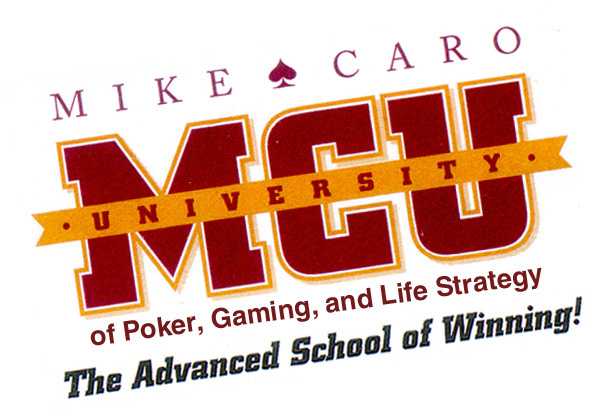 "Welcome to our Poker1 family!" —
Mike Caro
Contact | Poker1 store | Policies | Shipping | Top
---
---
---