Deals for our Poker1 family
Back | Cart | Check out | Contact | Poker1 store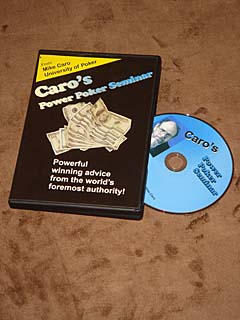 CARO'S POWER POKER SEMINAR (DVD)
This was the first time that Mike Caro allowed one of his high-energy, pure-profit seminars to be filmed. You get it all in one dramatic hour of winning tips, tactics, and long-guarded secrets. Betting, raising, tells, bankroll, bluffing, motivation, and much more. You'll discover why Mike Caro's magic seminars have revolutionized poker by providing the most privileged and profitable advice in a dynamic and entertaining way.
Presenter: Mike Caro
Price on product: $19.95
Mike Caro University (MCU)
Running time: 1 hour, 2 minutes
Copyright 1995, 2007
(See details below.)
CARO'S POWER POKER SEMINAR (DVD)
Attend one of Mike Caro's world-acclaimed poker seminars, filmed live by three cameras at the Bicycle Casino in Bell Gardens, California (Los Angeles area). Learn Caro's dynamic secrets to winning in one entertaining hour of intense poker training.
In 1995, after 15 years of never allowing his poker seminars to be recorded, Mike Caro let the world inside to see the magic and drama of world-class poker education.
Tells, hand selection, folding to make money, bankroll guidance, choosing the right games and seats, advanced strategy, and much more — it's all here.
Why and how you really can win at poker, but not at most casino games.
Long-guarded secrets about betting, raising, and even checking for maximum profit.
Caro shares his revolutionary research and explains how to apply it against opponents who are helpless against it.
Be motivated to win like you never thought possible!
In 60 easy-to-watch minutes, Mike Caro unravels the mysteries of scientific poker, makes them simple, and gives you the weapons you need to defeat even the pros!
If you missed your chance to attend in poker, take a front-row seat. Mike Caro will explain the most profitable poker concepts ever made available to the public, presented in a way you'll never forget!
Caro's Power Poker Seminar (DVD)
Poker1.com is home to MCU
Mike Caro University
of Poker, Gaming, and Life Strategy
You might see Mike Caro University
on your credit card and billing statements.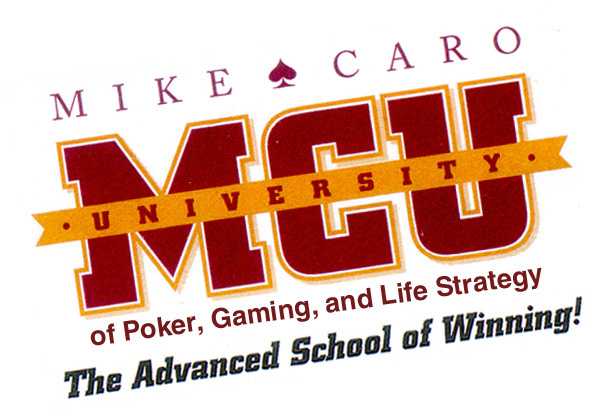 "Welcome to our Poker1 family!" —
Mike Caro
Contact | Poker1 store | Policies | Shipping | Top
---
---
---