Deals for our Poker1 family
Back | Cart | Check out | Contact | Poker1 store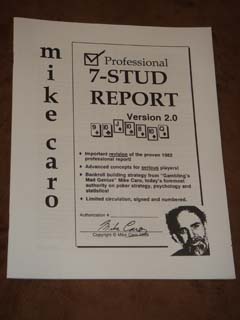 PROFESSIONAL 7-STUD REPORT
Exclusive, limited circulation report, signed and numbered. Packed with analysis and advice that serious seven-card stud players and professionals need. Focuses on detailed tactics and explanations about which starting hands to play and how to get the most profit from them. Also includes powerful general seven-card stud concepts, statistics, and advice for the fourth, fifth, sixth, and final (river) cards. Recommended primarily for serious players and students.
Author: Mike Caro
Thousands sold at $19.95
Limited circulation
Signed and numbered
Mike Caro University (MCU)
Pages: 32 extra large
(Equal to 128 book pages)
Copyright 1989
(See details below.)
PROFESSIONAL 7-STUD REPORT
This compelling advice from Mike Caro helps you beat seven-card stud, even at a professional level. A report, not a book. No filler or stories. Just solid tips and tactics packed into 32 large pages.
When to suspect that your opponent has a small hidden pair. Page 6.
Accurate seven-card stud odds. Page 32.
Organized in an intelligent way that makes Mike Caro's seven‑card stud teaching easy to apply.
All the seven-card stud essential ingredients of winning. Plus, it's peppered with concepts and guidance you're unlikely to find anywhere else.
Personally signed by Mike Caro and numbered. No-nonsense winning advice for serious seven-card stud players.
This extremely valuable edition to your poker library contains the answers you need to win at seven-card stud. Mike Caro takes his standard world-class training and cranks it up a level for more‑advanced students and dedicated competitors.
Professional 7-Stud Report
Poker1.com is home to MCU
Mike Caro University
of Poker, Gaming, and Life Strategy
You might see Mike Caro University
on your credit card and billing statements.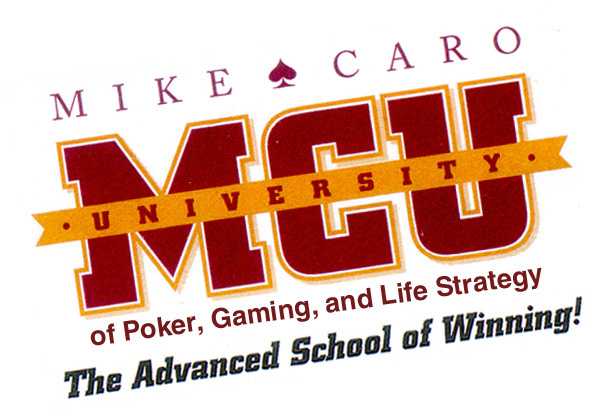 "Welcome to our Poker1 family!" —
Mike Caro
Contact | Poker1 store | Policies | Shipping | Top
---
---
---