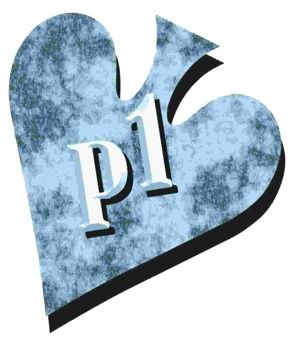 ---
Note: Not at the old Poker1 site. A version of this entry was originally published (2011) in Bluff magazine.
---
You know what? Say, "What?"
Okay, here's what. In looking back over my poker columns, I see advice about tells, about bluffing, about tactical maneuvers, about using psychology to dominate poker opponents, about building bankrolls, and a lot more. What I don't see is a set of simple guidelines for hold 'em players, defining what hands are okay to play. Let's fix that.
Actually, today we're only going to fix that partially, because these guidelines only cover what to do when nobody else has put money in the pot, except the blinds. It doesn't tell you what to do if the pot is already called or raised when the action reaches you. It doesn't tell you whether to call or raise or how much. And it doesn't tell you what to do if you're in the blind positions. The advice is purely, play or don't play.
I'm about to give you a core set of standards. They can be modified to include more hands if a game is loose, if you have acquired significant poker skill, or if you are dominating your opponents. There are all kinds of reasons why you might want to vary from these guidelines, with the expectation of making even more profit. In fact, I strongly advise students to add hands to these safe starting guidelines. Still, consider this your fallback strategy for avoiding trouble when fate isn't kind.
But, if you choose not to stray from this, you can be confident that you're on the right path to basic profit. That's true for limit or no-limit games because I've engineered an all-purpose blend, especially for you.
The chart
It's time to look…
Safer hold 'em starting-hand guidelines
(as first player to voluntarily enter the pot by position or against opponents who already entered the pot in that position)
Players remaining to act
Paired
Unpaired:
suited
Unpaired:
mixed suits
Portion of hands
you can play
9
A-A, K-K,
Q‑Q
A-K, A-Q
A-K
2.9%

(1 in 34.9)

8 (add…)
J-J
A-J
3.6%

(1 in 27.6)

7 (add…)
10-10
A-10
A-Q
5.2%

(1 in 18.9)

6 (add…)
9-9
K-Q
A-J
6.9%

(1 in 14.4)

5 (add…)
8-8
K-J, Q-J,
J-10, 10-9
A-10, K-Q
10.4%

(1 in 9.61)

4 (add…)
7-7
A-9, A-8, A-7,
A-6, A-5, A-4,
A-3, A-2
A-9, K-J
15.1%

(1 in 6.63)

3 (add…)
6-6
K-10, K-9, K-8,
Q-10, Q-9, J-9
A-8, A-7, A-6,
K-10, K-9, Q-J,
Q-10
23.7%

(1 in 4.22)

2 (add…)
5-5, 4-4
K-7, K-6, K-5,
K-4, K-3, K-2,
Q-8, Q-7, Q-6,
Q-5, J-8, J-7,
10-8, 10-7, 9-8,
9-7, 8-7
A-5, A-4, A-3,
A-2, K-8, K-7,
K-6, Q-9, Q-8,
J-10, J-9, 10-9
40.6%

(1 in 2.46)
A guarantee
I don't like giving guarantees, but here's one. I guarantee that if you follow my chart, you'll seldom be far from the right decision against most opponents in typical games. You won't be maximizing your profit if you're a superior player, though. But you'll be avoiding many costly confrontations.
Although I said I wasn't going to add wagering advice, here's some, anyway. When entering a pot in a late position, you should usually raise, not call. That's because the benefit of occasionally taking the pot without a fight — when everyone, including both blinds, folds — often overwhelms the cumulative disadvantages of having a medium-strong hand contested.
If you're going to add hands to this, consider raising with any pair from late positions and either calling or raising with medium pairs earlier.
As far as raising the blind first in no-limit games, your average amount should be a little less than three times the big blind. A minimum raise is okay, despite what you've heard, and you can occasionally raise more than triple the big blind to bring your average to about 2.75 times. A two-and-a-half times the big blind raise is almost always in the most-profitable range, although you can experiment with varying in accordance with hand strength.
My purpose in creating the chart was to make it easier to remember, while sacrificing some sophistication. Notice that I didn't say "easy to remember," just "easier." You'll need to spend some quality time with yourself, memorizing the chart.
Some of the hands that I've grouped into logical arrangements could be moved to earlier or later positions, but the difference would be trivial and the chart would be confusing. For instance, A-3 suited can sometimes be played from an earlier position than A-6 suited, because it has better straight-conversion chances. So what? In actual play, this doesn't matter enough to complicate the chart.
Also, small pairs – when played at all – are often more profitable from early seats in loose, but not aggressive, games, because then you can anticipate more players and better pot odds should you connect for three-of-a-kind. However, the sad truth is that many small pairs played early lose money, except if chosen by experts under the right circumstances. Even then, the average profit is small. For that reason, I've decided to structure pair play in descending order by position. This is arguably correct, anyway, for most situations you'll encounter.
Another quibble you might have is that suited connectors like 8♥ 7♥ are often played early with the hope of getting many players competing on these speculative hands. Unfortunately, most of these hands simply don't earn a profit. That's why, I've placed some suited connectors in the final row, used to attack the blinds with hopes of connecting, if called. If you have ample skill and psychological command, you can play these earlier. Otherwise, don't.
Two main uses of the chart
The chart doesn't only define what you need from which positions when all previous players have folded. It also shows you approximately what you need to call another player who already entered the pot. It's the position of the first player who voluntarily enters the pot that matters. That sets the target for you. If an opponent opens in position 6 (six players remain to act) and you're in position 3 (one position before the button), then you use position 6 on the chart to determine approximately what you need to play, not 3, which is your position.
In no-limit games, this assumes your opponent opened for a typically sized opening raise, which I define as no more than three times the size of the big blind. If that raise is larger, you need stronger hands to compete.
Beware of opponents who just call in early positions. They can be trapping with strong hands. For that reason, you should treat calls almost the same as normal raises, although you might sometimes liberalize the chart's requirements slightly.
Precise rankings
What you see is based on my research about 1980 that resulted in my precise rankings for all 169 hold 'em starting hands, as published 1994 in my Pro Poker newsletter. Each hand was given a value, adjusted for the number of players involved in a pot. Some hands play better with fewer opponents, some with more.
Look at the first row on the chart – for nine players waiting to act after you. Well, isn't that just totally ridiculous?
It says you'll only play one in 35 hands! How come?
Notice that you play more and more hands as the positions get later. Your choices don't accelerate much, from position to position, in early seats. That's because those seats are the most vulnerable, testifying to the power of position in hold 'em.
With eight players waiting, you still can only play one out of 28 hands. But if nobody else has entered the pot and there are just two players waiting (the blinds), now you can play about two out of five times, just over 40 percent.
More pots
I concede that most skillful players enter more pots than that from the early seats. And, certainly, as you advance at poker and understand your opponents, you can add more hands from the early seats without being harmed.
But here's the truth. The hands listed are the only ones that are likely to make much money. The one's you'd add would be for "spinning your wheels" or hoping for small profit at high risk for the sake of a more lively image. And, if you do add them, you better know what you're doing from that point forward.
And while I'm an advocate of a lively image, the chart is all you need to stay on the safe side. Unless you're capable of outplaying opponents on future betting rounds, you won't be sacrificing much, if anything, by sticking with those tight early seat standards.
Okay, I've said what I came here to say. Now it's up to you. — MC